Astronomy
Astronauts test re-entry systems for Friday landing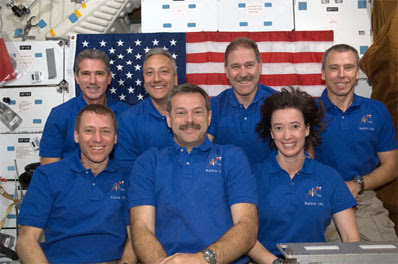 The Atlantis astronauts tested the shuttle's re-entry systems early Thursday and began packing for landing Friday, weather permitting, to close out a successful mission to overhaul the Hubble Space Telescope. The flight plan calls for a de-orbit rocket firing at 8:49:16 a.m. Friday, setting up a landing on runway 15 at the Kennedy Space Center at 10:00:31 a.m. A second landing opportunity is available one orbit later, at 11:39:18 a.m.
With no major technical problems in orbit, the only question mark is the weather, with forecasters predicting a broken cloud deck at 4,000 feet, crosswinds above 15 knots and a chance of thundershowers within 30 nautical miles of the runway, all violations of NASA's landing weather flight rules.
High winds and torrential rains rumbled through the area overnight as severe thunderstorms lashed Florida's Space Coast. There is a 50 percent chance of heavy rain, high winds and thundershowers all day Thursday and more of the same expected overnight and Friday.
But the astronauts have conserved power and now have saved enough hydrogen and oxygen to power the ship's electricity producing fuel cells through Monday. As a result, NASA is not staffing backup landing sites Friday. If the weather or some other issue blocks the two available landing opportunities, the crew will stay in orbit an extra day and try again Saturday.
-
Astronauts Do Last Inspection Of Atlantis Before Wednesday Landing
The astronauts in Atlantis have done the final inspection of the shuttle as it will re-enter the atmosphere of Earth on Wednesday after spending 7 days in International Space Station. The crew of Atlantis have spent 7 days in ISS where they installed...
-
Nasa Sets Wednesday Launch Date For Shuttle Endeavour
NASA managers today formally cleared the shuttle Endeavour for a delayed launch Wednesday on a space station assembly mission. Launch of the agency's Lunar Reconnaissance Orbiter was delayed to June 18 or 19 to make room for the shuttle in an effort...
-
Crew Returns From Breathing New Life Into Hubble
Delayed two days by stormy Florida weather, the shuttle Atlantis glided to a California landing today, closing out a successful mission to overhaul the Hubble Space Telescope with a picture-perfect Mojave Desert touchdown....
-
Phoenix Landing A Success!
Phoenix has made a successful landing on Mars yesterday. Very soon after the landing, it started sending pictures of itself and the area around it. The Phoenix crew (right) is very happy with the results. The above picture is of one of Phoenix'...
-
Phoenix Is Go For Landing
Phoenix is go for landing. The Phoenix Spacecraft is currently being prepared for its landing on Mars, to take place on this Sunday, May 25, at about 7:30 P.M. NASA has put up many ways that you can stay informed and current with information about the...
Astronomy