Astronomy
Messier81, Messier82 and NGC3077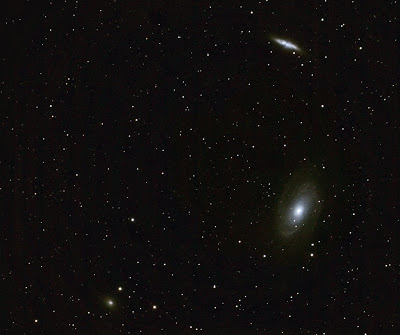 The M81, M82 and NGC3077 in constellation Ursa Major. M81 (bottom right) is 11.8 MLY away with mag 7.8. M82 (top right) is 11.5 MLY away with mag 9.3 and the smaller NGC3077 is 12.8 MLY away with mag 10.6. 14 images each 6 min, ISO1600 with Canon 40D(modified) through Celestron C80ED, 600 mm, f7.5. Guided with Stellarvue 200 mm f4, Neximage videocamera.
-
Supernova In Galaxy M51
Earlier this summer, a Supernova appeared in the M51 galaxy in constallation Ursa Major. The Supernova is show marked with a circle from a image taken 17 of September 2011. As comparison I have added a image I took in 2009 of the same galaxy....
-
M27 In Constellation Vulpecula
M27 with C11 on AP1200 using Canon 40D camera. 5 frames of 8.5 minutes at ISO1600. Guided with Stellarvue 200 mm f4 and NexImage videocamera....
-
Messier 49 In Virgo Cluster
The M49 is a elliptic galaxy in the constellation Virgo and a part of the Virgo cluster of many galaxies. M49 has mag8,5 and is about 60 MLY away. It is estimated to be 160 000 LY across.There are at least 6 other galaxies in the image, NGC4464/NGC4465/NGC4467/...
-
Mgc 7331 Group In Pegasus
The NGC 7331 group of galaxies in constellation Pegasus. The larger galaxy NGC 7331 is 40-50MLY from us. It is often reffered to as the Milkyway's twin galaxy. Telescope CPC 1100, 2800 mm, f10, Canon 40D modified, Guided with Celestron 80 ED and...
-
Ngc7662 - The Blue Snowball In Andromeda
The Blue Snowball - a planetary nebula - in constellation Andormeda is small, you need a larger telescope to see i good. Here I have used CPC 11oo, Focal length 2800, f10 with Canon 40D modified. 19x2 min ISO 800 and 8x4min ISO1600, guided...
Astronomy