Astronomy
NASA chooses history over comedian in naming contest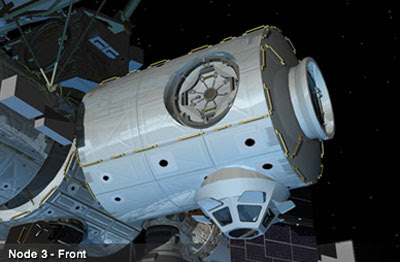 The international space station module built to house life support equipment and a panoramic observation cupola has been given a name: Tranquility.
Constructed in Italy under the technical identifier Node 3, the multi-hatch connecting module received the official name following an online poll that had taken on a life of its own.
NASA's website invited the public to vote on various choices like Serenity and Earthrise or submit suggestions. Stephen Colbert, host of Comedy Central's nightly "The Colbert Report," seized on the opportunity and urged viewers to write in his name.
And when the voting ended March 20, "Colbert" had received the most support in the non-binding poll that saw some 1,190,437 users vote or submit suggestions.
The space agency used his show to unveil the name Tuesday night.
Tranquility is scheduled for delivery to the Kennedy Space Center from Europe next month. Its launch to the space station is targeted for February aboard shuttle Endeavour's STS-130 mission.
The module will be mounted to the port side of the station's existing Unity connecting node to house eight refrigerator-sized racks of environmental control and life support systems.
-
Astronauts Do Last Inspection Of Atlantis Before Wednesday Landing
The astronauts in Atlantis have done the final inspection of the shuttle as it will re-enter the atmosphere of Earth on Wednesday after spending 7 days in International Space Station. The crew of Atlantis have spent 7 days in ISS where they installed...
-
Future Of U.s Human Space Flight
A commission is reviewing the future of U.S. human spaceflight and will present up to a half-dozen options to President Obama late next month, ranging from a conservative, methodical space program to an aggressive blueprint for a mission to Mars. NASA...
-
Shuttle Endeavour Finally Launched
Shuttle Endeavour finally roared to life and blasted off Wednesday on its sixth try, rocketing away through a hazy sky toward a Friday rendezvous with the International Space Station from Kennedy Space Center. Multiple pieces of foam insulation fell...
-
Nasa Sets Wednesday Launch Date For Shuttle Endeavour
NASA managers today formally cleared the shuttle Endeavour for a delayed launch Wednesday on a space station assembly mission. Launch of the agency's Lunar Reconnaissance Orbiter was delayed to June 18 or 19 to make room for the shuttle in an effort...
-
Station Crew And Tourist Aim For Overnight Landing
Outgoing space station commander Mike Fincke, flight engineer Yury Lonchakov and space tourist Charles Simonyi bid farewell to the Expedition 19 crew Tuesday and boarded a Soyuz ferry craft for re-entry and landing Wednesday in Kazakhstan. Fincke and...
Astronomy