Astronomy
NASA poised to stop work on shuttle extension option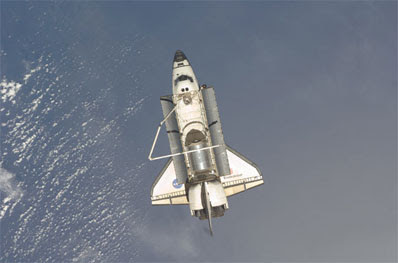 Facing a tight budget, a 2010 deadline to end space shuttle operations and a lack of concrete political support to fund additional flights or stretch out the current manifest, NASA managers are meeting this week to discuss the impact of ending efforts that have been keeping open the option of extending the shuttle program past the current deadline.
Complicating the picture for NASA planners, there is a very real possibility that one or two of the final shuttle missions currently envisioned will slip into the October-December 2010 timeframe, i.e., the first quarter of fiscal 2011. There is no money in NASA's projected 2011 budget for any shuttle operations beyond $300 million or so intended for retirement activities.
As a result, NASA now plans to terminate work that kept open the option of a shuttle extension when the current legislation expires at the end of the month.
-
Shuttle Endeavour Launch On Sunday Postponed
NASA on Sunday postponed the launch of space shuttle Endeavour for the day due storms near Kennedy Space Center. NASA will next try to launch the shuttle on Monday at 6:51 p.m. Endeavour's launch was postponed twice last month because of a liquid...
-
Nasa Sets Wednesday Launch Date For Shuttle Endeavour
NASA managers today formally cleared the shuttle Endeavour for a delayed launch Wednesday on a space station assembly mission. Launch of the agency's Lunar Reconnaissance Orbiter was delayed to June 18 or 19 to make room for the shuttle in an effort...
-
Space Shuttle Endeavour Launch Postponed By Leak
Launch of the shuttle Endeavour, grounded by a gaseous hydrogen leak during fueling Saturday, is off until Wednesday at the earliest, NASA officials say. But because of the already planned launch of NASA's Lunar Reconnaissance Orbiter satellite Wednesday,...
-
Shuttle Atlantis Blasting From Nasa
When the space shuttle Atlantis blasts off on NASA's final mission to service the Hubble Space Telescope, the shuttle Endeavour and a four-man crew will be standing by for launch on a mission space agency managers hope will never be needed: an emergency...
-
Nasa And Google Join Forces
NASA Ames Research Center and Google have teamed up primarily to provide more NASA information on the internet. Moon and Mars data from NASA will be put into Google Earth. Google will also include a feature to track the International Space Station and...
Astronomy