Astronomy
The Crab Nebula.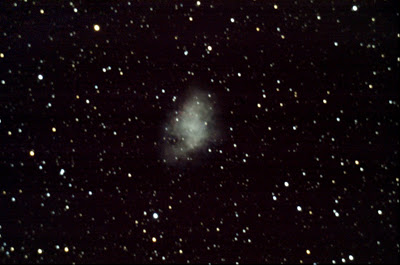 The Crab Nebula in Taurus was first seen in 1024 by the Chineese and Arabs. The supernove explosion 6500 LY away in our Milky Way was visible to the naked eye in daylight for almost a month and in the night sky for almost two years. The remaining nebula is today called Messier 1, NGC 1952 or the Crab Nebula. Camera Nikon D70, CPC11 2000 mm at f6,3, guided.
-
Picture Of Cat's Eye Nebula
The Cat's eye nebula is a planetary nebula in the constellation of Draco. A nebula is a cloud of dust and gas in space. A nebula is of four types- planetary nebula , reflection nebula , emission nebula and absorption nebula. Cat's nebula can...
-
The Orion Nebula.
The Orion Nebula, also known as M42 or NGC 1976 is a diffuse nebula situated in the Milky Way, being south of Orion's Belt in the constellation of Orion. It is one of the brightest nebula and is visible to the naked eye in the night sky. ...
-
The Crab Nebula, Messier1 Using Ha And Oiii
The nebula was first observed by John Bevis in 1731, and corresponds to a bright supernova recorded by Chinese and Arab astronomers in 1054. About 6500 LY from us and 11 LY across. It is called the Crab Nebula here imaged in a Ha, Oiii and RGB sandwich....
-
The Flame Nebula And The Horsehead Nebula
The Flame Nebula (NGC2024) and The Horsehead Nebula (Bernard33) sticking its head out of the red glowing Nebula IC434. In the constellation Orion.The blue reflection nebula between the Horsehead and Flame nebula is NGC2024.Celestron 80ED - 600 mm, f7.5...
-
Different Nebulae
Different Types Of Nebulae (Nebula NGC 672) (Dumbbell Nebula) (M31) (Cat's Eye Nebula) (Horse Head Nebula) (Cat's Paw Nebula NGC 6334) (Small Magellanic Cloud) (Stellar Spire in Eagle Nebula)...
Astronomy